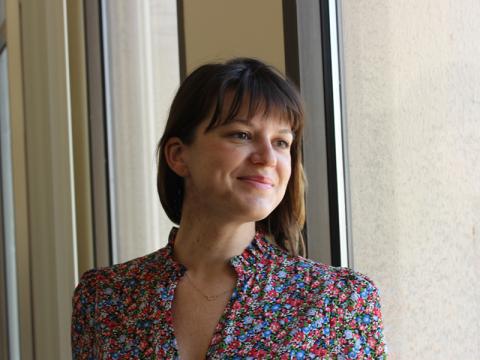 Education & Affiliations
Certificate, Monitoring and Evaluation for Humanitarian Programs Harvard University, Harvard Humanitarian Initiative
MA, Comparative & International Education, Lehigh University
BA, Spanish and Mass Communication (Double Major), University of North Carolina at Asheville
Biography
Shay Slifko (she/her) grew up in West Virginia and North Carolina and enjoys spending time outside relaxing, mountain biking, hiking, trail running, camping, and travel. Shay's professional background spans nine years working in academic and practical public health settings in international development, global health, and education. Formerly, Shay was as an assistant editor for an online academic journal and a board member for an HIV prevention advocacy organization. For seven years, she was the assistant director of global health education at the UNC School of Medicine and Institute for Global Health & Infectious Diseases overseeing programmatic operations, co-teaching global health courses, and working with medical students and fellows in equitable research training. Additionally, she has worked as a contracted program evaluative researcher in constrained health care systems and countries affected by mass violence in Haiti, Papua New Guinea, and Cambodia specifically in community health worker capacity building and maternal and child health.
Shay received a BA in Spanish from UNC Asheville, her MA in comparative and international education from Lehigh University with a focus in global health, a training certificate in program evaluations in global settings at Harvard's Humanitarian Institute, and additional training in public health leadership at the University of North Carolina.
Research Areas
Global health
Health behavior
HIV/AIDS
Violence prevention
Infectious diseases
Women's health
Sexually transmitted infections
Community engagement
Qualitative research methods
Honors & Awards
2021: Dean's Research Council Merit Scholarship, Tulane University SPHTM
2017: Awarded the International Journal of Health Promotion and Education's 2017  Pittu Laungani Best Paper Award: Vol. 55, No. 4. 
Publications
PEER-REVIEWED PUBLICATIONS
Michalak, M., Slifko, S.E., Wahl, J., & Knettel, B.A. (in press). Task Shifting for Maternal and Neonatal Care in Low-Resource Settings: A Mixed-Methods Evaluation of a Midwifery Training Program in Rural Papua New Guinea. Health Care for Women International. https://doi.org/10.1080/07399332.2022.2095638
Slifko, S.E, Vielot, N.A., Becker-Dreps, S., Pathman, D., Myers, J., Carlough, M. (2021) Students with global experiences during medical school are more likely to work in settings that focus on the underserved: an observational study from a public U.S. institution. BMC Medical Education, 21(1), 1-9.
Yu, X., Pendse, A., Slifko, S.E, Inman, A.G., Kong, P., & Knettel, B.A. (2019). Healthy people,healthy community: Evaluation of a community-based train-the-trainer program on Water, Sanitation, and Hygiene (WaSH) in southeast Haiti. Health Education Journal. DOI: 10.1177/0017896919853850
*Knettel, B.A., Slifko, S.E, Inman, A. G., & Silova, I. (2017). Training community health workers: Anevaluation of effectiveness, sustainable continuity, and cultural humility in an educational program inrural Haiti. International Journal of Health Promotion and Education, 55(4), 177-188. DOI: 10.1080/14635240.2017.1284014
*Awarded the International Journal of Health Promotion and Education's 2017 annual award for the Best Paper- Pittu Laungani Best Paper Prize: Vol. 55 No. 4. Published Feb 10, 2017.
BOOK CHAPTER
Knettel, B.A. & Slifko, S.E (2017). Community health workers as agents of change: Case studies from Haiti, Tanzania, and Burmese refugees in the United States. In C. E. Stout & G. Wang (Eds.), Why global health matters. Seattle: Amazon Publishing
SELECT ACADEMIC PRESENTATIONS
Slifko, S.E & Wahl, J. (2020) A program evaluation of a pilot midwifery training program in Papua New Guinea: A closer look at the implementation of a task-shifting model where there is no doctor. The Consortium of Universities for Global Health. Washington, DC.
Carlough, M., & Slifko, S.E (2019) Exploration of Career Models in Global Health. The American Academy of Family Physicians Global Health Annual Summit. Albuquerque.
Slifko, S.E (2019) UNC Global: Medical Ethics and What it means to be a Globally Minded Provider. GO Global Orientation Summit. Center for Global Initiatives. Chapel Hill.
Slifko, S.E, (2017) What a Great Shot: Ethical Use of Medical Images. University of Minnesota Annual Conference, The Ethics of Patient Safety Abroad. Minneapolis.
Carlough, M. & Slifko, S.E (2017) Framework for Interdisciplinary Global Health Engagement presented at the American Academy for Family Physicians Global Health Summit. Atlanta.
Knettel, B.A., & Slifko, S.E (2014). Teaching Prenatal Health, Postpartum Care, and Disease Prevention in Rural Haiti: Evaluating a Community Health Worker Training Program. American Public Health Association Annual Meeting. New Orleans.
Dissertation Info
Advisor: Mai Do, MD, DrPH, MPH