Image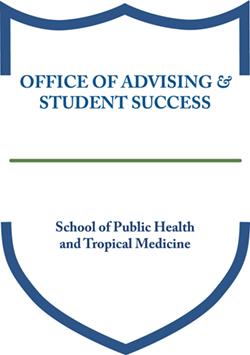 The Office of Advising and Student Success provides leadership and guidance in developing, implementing, and maintaining a comprehensive academic success program and initiatives for all SPHTM graduate students, promoting a culture of persistence and retention.
This office also comprehensively monitors student academic success; provides professional guidance, consultation, and expertise related to academic services and related technology; and develops and manages academic advising processes to ensure student success. The office will also coordinate services for the SPHTM Writing and Tutoring Center. The Office of Advising and Student Success maintains regular contact with students, using multiple communication platforms, such as phone, email, instant messaging, and Zoom meetings.
Contact the Office of Academic Advising at sphtmadvising@tulane.edu with general questions.
Advisors & Director
Shallene Joseph
Director
sjoseph10@tulane.edu
Programs
Biostatistics and Data Science: MS and MSPH
Online DrPH in Leadership, Advocacy, and Equity
Social, Behavioral, and Population Sciences: MPH in Maternal and Child Health, Nutrition, Health Education and Communication, and Social, Behavioral, and Population Sciences
Non-degree seeking students
Michael Fox
Academic and Student Success Advisor
mfox10@tulane.edu
Programs
Environmental Health Sciences: MPH in Environmental Health Sciences,  Disaster Management,  and Industrial Hygiene (residential and online); MPH in Disaster Management, Industrial Hygiene, Occupational Environmental Health, and Occupational Health and Safety Management (online only)
International Health and Sustainable Development: MPH in International Health and Sustainable Development
Ruth Fruge
Academic and Student Success Advisor
rfruge@tulane.edu
Programs
Health Policy and Management: Master of Health Administration (residential and online); MPH in Health Policy, and Health Systems Management
Epidemiology: MPH in Epidemiology, MS in Epidemiology, MS in Clinical Investigation
Tropical Medicine: MS in Tropical Medicine, MPTH&TM
Whtitney Smith
Academic and Student Success Advisor
wsmith22@tulane.edu
Programs
Community Health Sciences, online and residential programs