Valerie A. Paz-Soldan, PhD, MPH
Director of Tulane Health Offices for Latin America
Phone
(Peru +51) 94020-6810
Casa Perez Roca 148A-Dpto 301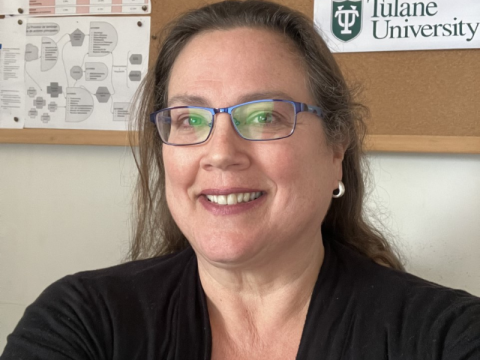 Education & Affiliations
PhD, Maternal and Child Health, University of North Carolina at Chapel Hill
MPH, Community Health Education, San Jose State University
BA, Psychology, Stanford University, CA
Biography
Valerie A. Paz-Soldan is a Peruvian-American social scientist based permanently in Peru as the Director of Tulane's Health Office for Latin America (~19 years). She obtained her PhD in Maternal and Child Health (2003), with a minor in Population Studies, for which she took courses on demography, health econometrics, health policy, and qualitative research, and used mixed methods for her dissertation work on reproductive health in Malawi. For the past 18 years, funded by NIAID, NICHD, NCI, NIH-Fogarty, Gates Foundation, Wellcome Trust, and the Department of Defense, she has been the lead social scientist on various multidisciplinary teams to examine human behaviors associated to infectious disease transmission, prevention, and control. She applies both qualitative and quantitative research methods to improve knowledge on adoption of infectious disease prevention and control practices, at both the individual and organizational level (health care systems). For over 18 years, she has focused on dengue prevention and control, including research on the role of human movement in dengue transmission, human behaviors associated to dengue control, and the possible use of rapid diagnostic tests at the community level for dengue (and other febrile diseases). She has examined ways to increase participation in spraying for triatomines for Chagas control, as well as increase participation in vaccination campaigns for canine rabies. Additionally, she has been working on the intersection of climate change and health, participating as a scientist in the Lancet Countdown for Climate Change and Health for the South America region (https://www.lancetcountdown.org/about-us/team/). Currently, her main research projects utilize implementation science theories, models, frameworks, and approaches to assess, prepare, implement, and evaluate strategies for: 1) improving vector borne/zoonotic disease prevention and control, especially focusing on Chagas disease (R01AI146129 [mPI]), dengue (Merck [PI]), and canine rabies (R01AI68291 [co-I]), and 2) improving HPV screening and cervical cancer case management in Iquitos, Peru (R01CA190366 [mPI], "Proyecto Precancer"), and now scaling up this screen-and-treat strategy at the national level (U01CA190366 [mPI]). Her research takes place in underserved regions of Peru -- the Amazon rainforest and Andes mountains.
Throughout these two decades, in addition to building local research capacity in Peru, she has fostered research collaborations between Tulane faculty/students and colleagues in Latin America, and has mentored approximately ~125 students (mostly graduate students and pre- and post-doctoral students) from mostly US and Peruvian nationalities conducting research activities in Peru. Many of my students have been funded through NIH Fogarty programs (D43TW009340, T37 MD001424, D43 TW009349, R25 TW008093), Fulbright Foundation, or Tulane's Stone Center for Latin American Studies and Tinker Foundation.
Research Areas
Transmission and control of vector-borne (dengue, Zika, and Chagas) and zoonotic (rabies) diseases
Cervical cancer screening and prevention in Peru
Examining acceptability and adoption of innovative products for health, focusing on infectious diseases
Honors & Awards
2001, 2002: Carolina Population Center Pre-doctorate Traineeship (NICHD & Compton funding), UNC-Chapel Hill
2002: Mellon Funds awarded for qualitative data collection in Mangochi, Malawi. 7/01 Population Policy Communication Fellowship, Population Reference Bureau, Washington, DC.
1996: Outstanding Master's Project, San Jose State University, CA
1996: Outstanding Service to the Health Science Dept, San Jose State University, CA.