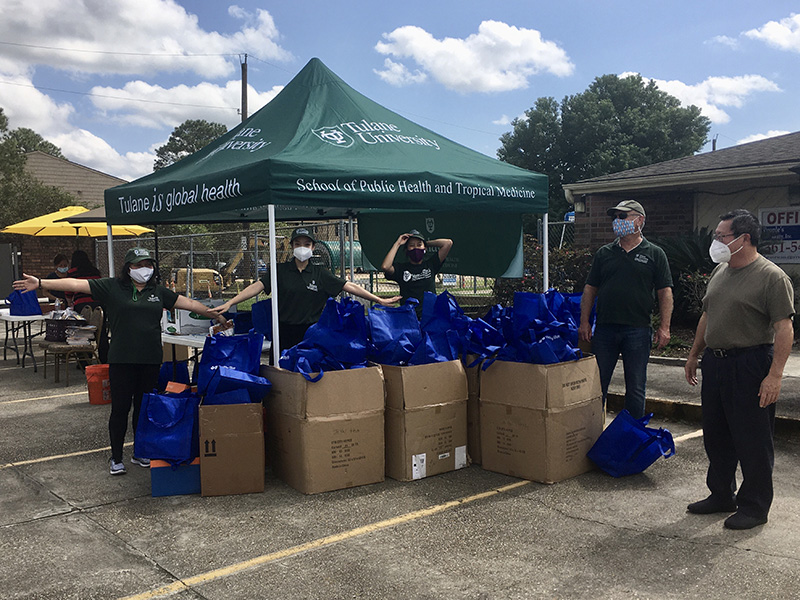 November 3, 2020 – The School of Public Health and Tropical Medicine faculty, staff, students, and alumni are working on the front lines of the COVID-19 outbreak. We have asked any affiliates with our school to share their experiences and stories. This story comes from SPHTM Service Assistance in NOLA to Seniors (SSAINTS) Program:
The SSAINTS Program is a team of current Tulane students who are working to ensure the health and well-being of an underserved and vulnerable population group, the Vietnamese American older-adults residing in the New Orleans Metropolitan Area. They received a grant through Sprinting to the Front Lines, a rapid funding mechanism for Tulane students to respond to the COVID-19 outbreak, generously funded by Celia Weatherhead and the Weatherhead Foundation. They recently participated in a drive-thru format health fair targeting Vietnamese older-adults sponsored by the Vietnamese-American Seniors of Greater New Orleans Association (2330 Park Place Dr., Gretna, LA. 70056).
The fair welcomed all members of the community. The health fair originally planned for October 11, 2020 from 1:00PM to 4:00PM was rescheduled to October 18, 2020 due to Hurricane Delta. Services provided were COVID testing, influenza immunization, and distribution of health and COVID-19 related informational materials. This effort is a synchronization of assistance sponsored by local healthcare service providers (i.e., collaboration with Walgreens and Ochsner Heath Systems), as well as local community organizations.
The SSAINTS Program distributed 200 goodies bags consisting of printed informational flyers regarding COVID-19 risk mitigation strategies, COVID-19 myths/facts, face covering etiquette and care, and hurricane preparedness during COVID-19 as well as cloth face masks and hand sanitizers. Dr. Mark VanLandingham, professor and the Thomas C. Keller Professor Director of Center for Studies of Displaced Populations, and Dr. Kathleen E. Carlin, Adjunct Professor of Asian Studies and Professional Advancement, volunteered for the whole fair with the SSAINTS team.
Student Team Members: NhuNgoc Pham, PhD student in GCHB, Lidan Zhang, MPH student in GCHB, MiguelAngel Lopez, PhD student in GCHB, and Trang Nguyen, Post-Doc Fellow, Center for Studies of Displaced Populations, GCHB, Cam-Thanh Tran, Assistant Director, Center for Studies of Displaced Populations
Faculty Mentors: Dr. Mai Do, GCHB, and Dr. Pia Chaparro, GCHB