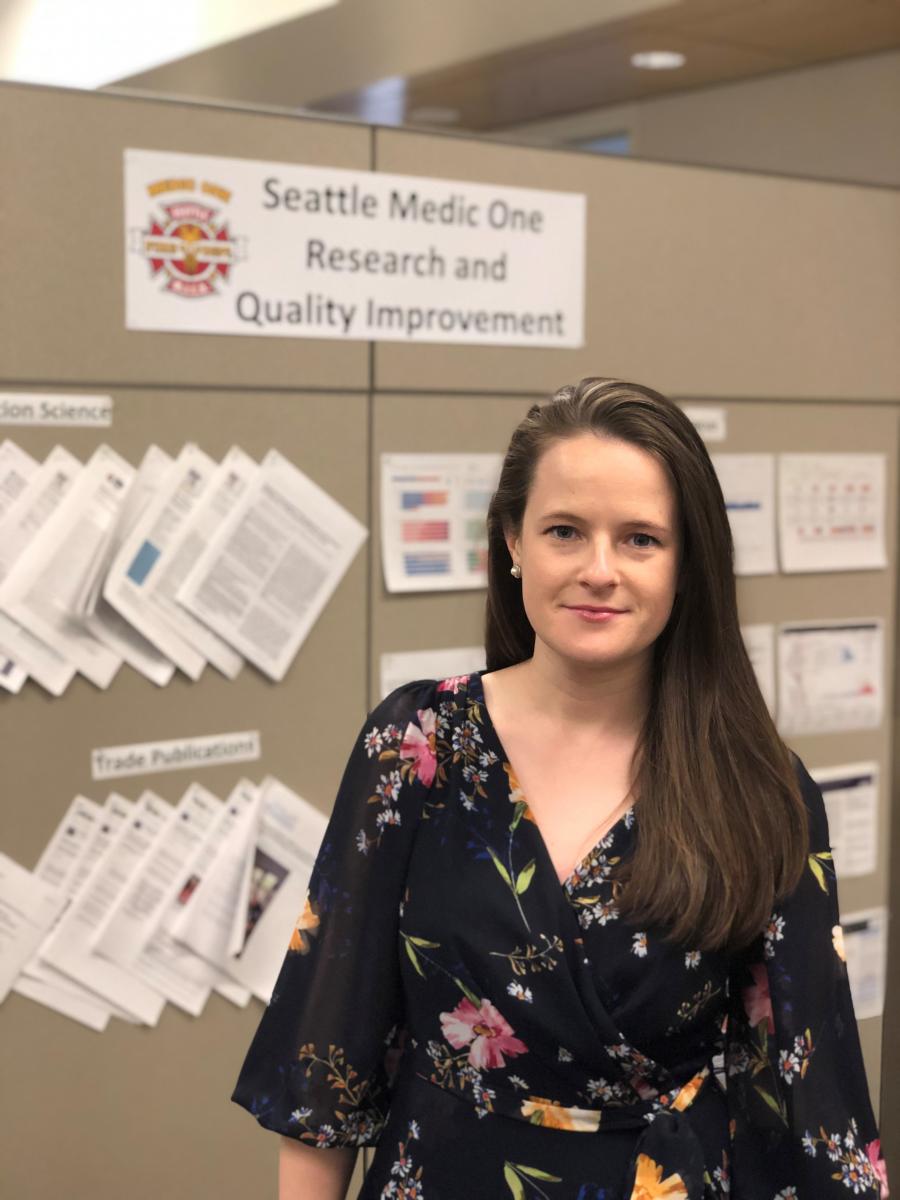 October 5, 2020 – The School of Public Health and Tropical Medicine faculty, staff, students, and alumni are working on the front lines of the COVID-19 outbreak. We have asked any affiliates with our school to share their experiences and stories. This story comes from Catherine R. Counts:
Catherine R. Counts (BS '11, MHA '13, PhD '17) is an acting instructor in the University of Washington Department of Emergency Medicine, as well as the research and quality improvement manager for Seattle Medic One, the EMS arm of the Seattle Fire Department.
Since the first COVID-19 infection diagnosis in the United States, Seattle Medic One and King County EMS, part of Public Health - Seattle & King County, have been working to track the pandemic as it evolves within the King County, Washington region. They were the first to describe how patients with COVID-19 present in the pre-hospital setting and have been a driving force not only nationally, but globally, in understanding how EMS providers can best care for patients suspected of having COVID-19.
Seattle Medic One and King County EMS have also made a concerted effort to ensure EMS providers have the most up to date information possible to keep themselves healthy and protected from COVID-19. Their recent publication in BMJ Emergency Medicine Journal suggests that the operational changes made by Fire and EMS agencies throughout the region played a significant role in preventing COVID-19 transmission from patients to EMS providers. Not only is Dr. Counts a co-author on both of these publications, she was also responsible for developing the original quarantine and isolation symptom tracking system used by EMS providers after an occupational exposure.
Within weeks of the first known U.S. death from COVID-19, Seattle Fire Department opened the first-in-the-nation COVID-19 First Responder Testing Site. This site tested 700 first responders in the six weeks it was operational; it was so successful the City of Seattle expanded the program to the public free of charge, and opened four additional sites. Dr. Counts is responsible for the creation and management of the contact-tracing database used by these sites and has since lent her expertise to other locations around the region.  
Because of a comprehensive collaboration between the University of Washington, the City of Seattle, and Public Health - Seattle & King County, clients are able to show up same day and get tested, often receiving their results within 24-72 hours.
Dr. Counts continues to be involved in various aspects of the region's COVID-19 response from quality improvement efforts relating to patient care to national webinars sharing lessons learned with others, to additional research on COVID-19 transmission in the pre-hospital setting.
"I'm honored to be part of a multi-disciplinary team that's built a COVID-19 response and testing infrastructure from nothing. We are proud of our ability to serve our community in this time of need and happy to share our experiences with those following in our footsteps."