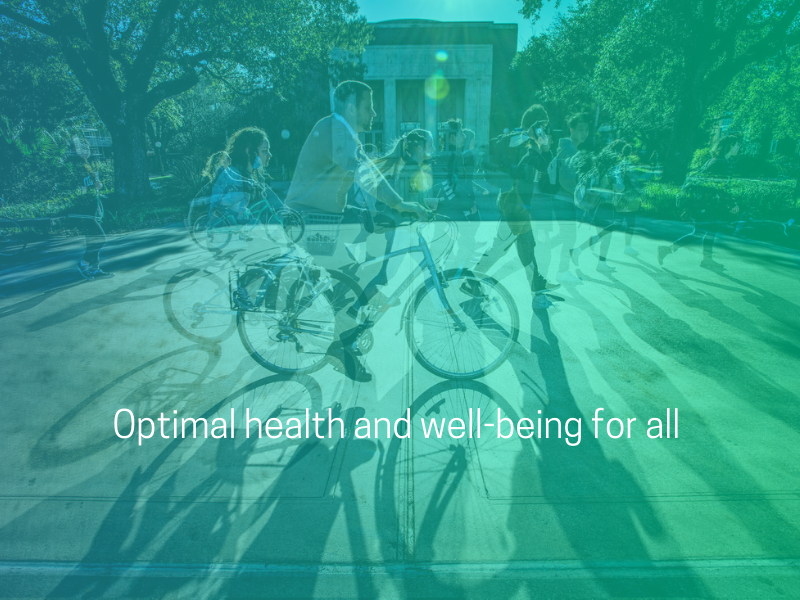 I. Optimal Academic Programs & Curriculum
Goal: 
Offer the optimal portfolio of academic programs and curriculum to fulfill our mission and vision.
Objectives and Strategies: 
A.    Offer differentiated academic programs that capitalize on our strengths, address current needs and anticipate growth areas; 
i.    Create a taskforce to assess the portfolio of academic programs, determine which programs to eliminate, revamp or develop.
ii.   Examine feasibility of matriculation pipelines with local, national and international partners.
iii.  Examine viability of a true "4 + 1" degree program for BSPH students.
iv.  Develop dual/multi/joint department degree programs.
B.    Improve existing curriculum with an assessment strategy, measures and instruments for decision-making and ongoing improvement efforts.
i.    Develop ILE (integrative learning experience)/culminating experience course.
ii.   Develop a pedagogy course for doctoral students.
iii.  Improve the practicum experience.
iv.  Address duplication in curriculum.
v.   Review and revise policies and procedures related to curriculum development and review.
vi.  Implement evaluation strategy for BSPH foundational curriculum, study abroad courses, internships, and capstone offerings.
vii. Employ a curriculum database for maintaining approved, accurate, and current curricular information.
C.    Establish clear systems, processes, standards, and measurements for delivering high quality online programs.
II).  Viable Organization Structure
Goal: 
Establish academic structures, functional units and leadership roles to achieve our mission and vision. 
 
Objectives and Strategies: 
A.    Restructure academic and functional units as required to achieve the mission.
i.  Establish an academic department in social science and restructure GCHB.
ii. Rebrand/rename academic departments and programs where required.
iii. In conjunction with the reorganization, identify a structure for Global Health.
B.    Review and revise the organizational structure of the school to align with the mission, values, and vision.
i.    Appoint Associate/Assistant Deans to lead core functions:  
(1) Research, (2) Community Outreach & PH Practice, 
(3) Diversity, Equity & Inclusion, (4) Faculty Affairs, 
(5) Distance Learning
ii.    Staff admissions department to achieve the mission and goals. 
iii.    Examine viability of a laboratory manager for labs and a data science entity that serves all departments.
iv.    Institute joint appointments, using best practices for policy, process and procedure.
v.    Increase full-time faculty in the BSPH program.
C.    Work with TU Human Resources to:
i.    Decrease ambiguity surrounding tasks and duties expected of staff. 
ii.    Harmonize staff job descriptions with actual job responsibilities, including a better definition of the "other 5- 10%" on job descriptions. 
D.    Perform a functional analysis for core processes and work needs; identify duplication, gaps, map functions and work to jobs. 
i.    Establish workflow processes with clear lines of reporting and hand-off, minimizing approvals and digitally tracking where possible.
ii.    Establish an assessment strategy to measure and improve critical functions such as pre-award services, curricular processes, and onboarding for new hires.
III). Outreach & Partnerships 
Goal: 
Increase outreach and engagement with local, national and worldwide partners.
Objectives and Strategies: 
A.    Appoint Associate Dean for Outreach and Public Health Practice.
i.    Centralize tracking of all projects undertaken in the community by SPHTM personnel.
ii.    Coordinate and improve the practicum experience.
B.    Establish more undergraduate "feeder" relationships beyond BSPH and including minority-serving institutions.
IV).  Inclusive Culture
Goal: 
Foster an inclusive community in which to work and learn that advances diversity in students, staff, and faculty.
Objectives and Strategies: 
A.    Appoint an Assoc Dean for Diversity, Equity and Inclusion.
B.    Incentivize collaboration within and across departments and units.
C.    Gather and publish history of SPHTM successes.
D.    Construct designated communal spaces for gathering. 
E.    Appoint a "Staff Experience Task Force".
F.    Appoint a "Student Experience Task Force".
i.    Administer "Student Climate Survey".
G.    Establish shared traditions for the school.
H.    Develop mandatory training program for students, staff, and faculty on diversity, equity and inclusion.
I.    Assess support services and accommodations for students, faculty, and staff with special needs.
J.    Review policies and plans to recruit, develop, promote, and retain a diverse body of students, faculty and staff.
i.    Establish enrollment/recruitment task force.
ii.    Implement data analytics in admissions. 
iii.    Evaluate existing admissions standards to determine enrollment barriers for key groups, including underrepresented minorities, and first-generation college students.
i.    Conduct assessment of the efficacy of standardized tests as determinants of student success at TSPHTM. 
ii.    Examine faculty hiring practices: identify areas of focused recruitment, avoid silos with single faculty researchers.
 
V). Structures for Success
Goal: 
Strengthen existing capacities to lead, innovate, collaborate and grow professionally. 
Objectives and Strategies: 
B.    Establish operations for performance management at the supervisory and leadership levels.
i.    Establish performance measures, accountabilities, and feedback mechanisms.
ii.    Pilot a 360-feedback mechanism.
iii.    Incorporate supervisory/leadership skill building into career progression and annual goals. 
C.    Establish operations for career progression and professional development. 
i.   Develop onboarding/orientation program. 
ii.  Clear barriers to staff training/conferences.
iii. Arrange uptown offerings for downtown staff. 
iv.  Establish means of using skills, experience, knowledge of soft money staff.
v.   Systematize support for staff on grants. 
D.    Institutionalize the Staff Retreat.
i.    Make it evidence based.
ii.   Announce administrative changes.
iii.   Establish reward/recognition practice.
E.    Strengthen transparency of information. 
i.    Establish a "staff advisory council".
ii.    Publish internal directory of resources. 
iii.    Post directional directories in the elevators.
iv.    Publish internal goings on (Tidewater Times).
v.    Maintain accurate listserv information.
F.    Establish operations for excellence in teaching.
i.    Formalize faculty mentoring program.
ii.    Facilitate access to research and mentoring expertise across departments.
iii.    Evaluate the role of teaching in existing reward, promotion, recognition practices.
iv.    Examine state of the art practices for using student feedback and course evaluations.
v.    Establish pathways of professional development in teaching excellence: new faculty orientation, pedagogy for TAs, summer institutes, master teacher and eProfessor programs.
G.    Institute student Exit Survey instrument and process for gathering data for decision-making. 
H.    Identify strategies for funding doctoral students.